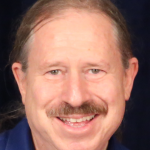 Over many years I have read literally thousands of books, articles, research papers and the like.  I still spend 50 or more hours each month reading the latest health research books and papers.  I do this so that I can better help you, my clients.
From time-to-time I have come across a programs that were supposed to dramatically increase my reading speed.  The claims have usually been impressive.  And the most attractive of the speed reading programs have promised to increase both comprehension and retention, as well.  Wow!
Imagine really being able to read 3 or 4 times faster, understand better, and even remember better.  Who wouldn't want that, especially in today's  world of information overload?
I see these programs and am generally skeptical.  But occasionally I try one of them.  Most of them have some sort of guarantee, or they cost little enough and sound good enough to be worth the risk.
I have known for a long time that it is possible because I have run into people who really do read very much faster than I and who seem to understand and recall as well or better.
Until recently the programs I have tried have not worked for me.  But I hadn't given up because the benefits were so enticing.
I finally found one that works!  In almost no time at all, just a few days of spending about 10 minutes each day practicing a simple change to my reading technique, I have already doubled my speed.  So far, I am not sure if my comprehension has really gone up or not, but at least I am sure it has not gone down.  And the program's creator promised that it would.  If it just stays the same, I am already a winner with the speed increase I have already experienced.  I have a feeling my speed will increase even more in the near future.
If this sounds good to you, check it out.   Click Here!   I am only recommending their least expesnive program at this page.  See below for details.
Be aware of one thing:  I think the main program that the above link will take you to is very reasonably priced, well worth it, and that it really works.  At least it is workkng for me and for several other people I know who are using it.  However, there is also a link on the same page to a much more complex and expensive program.  I am not endorsing that more expensive program.  I have not tried it and I have no idea if it works and if it is worthwhile.  It may be or it may not.  I never endorse anything that I have not tried, or at least personally and thoroughly investigated.  No exception, here.
I know that one of the ways I can reduce my own stress is to offset the effects of information overload.  This is a great tool to help me do so.
If you decide to try this, please let me know how it works for you. Send me an e-mail – jeff@myhealthoptimizer.com
To your health!
Jeff Bell