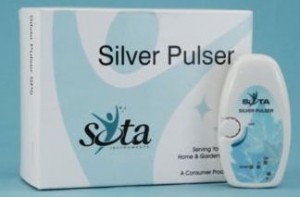 Product Review:  Sota Instruments "Silver Pulsertm" Colloidal Silver Generator and Electrical Pulse Device for use with the "Beck Protocol"  for wellness. 
This unit is a prime part of my personal first aid kit.  I never want to be without one.  I have been using the earlier model of the Sota Instruments Silver Pulsertm since the early 1990s. 
In order to be in full compliance with FDA requirements, I absolutely cannot make any claims about what the device or the protocols can do for you.  However, I can tell you what my own personal experience in using it has been.  By using it I have avoided many colds, flus, and similar pathogenic health problems over the years.  It has helped to keep my family safe and healthy, as well.  On the rare occasions when I have gotten sick, I believe the recovery has been dramatically hastened by using the Silver Pulsertm.  In order to satisfy the FDA requirements and those of related agencies I am reminding you that I am not making any claim whatsoever regarding any benefits or results that you may get from using this or related devices.  I am just reporting what my own experience has been. 
The Silver Pulsertm, based on Dr. Robert Beck's research, design and protocols, includes both a way to generate your own colloidal silver, and a way to use electrical pulsing also known as "micro-pulsing".  For those not familiar with the "Beck Protocol" I have included a brief summary of the 2 prime elements of it at the end of this review. 
The new "Silver Pulsertm" by Sota Instruments, has a new case, some new features and refinements, and a new Sota model number: SP5.  Those familiar with the original model will appreciate a number of primarily minor refinements.  (If you already have one of the older models, there may be no reason to replace it.)
However, there is one very significant improvement:  The circuitry that is used to generate the colloidal silver has been improved so that the size of the silver particles is much smaller than that generated by the prior model.  Research has shown that smaller particles are far more effective.  So if you generate your own colloidal silver, then consider getting the newer model.
The published specifications for the new model state that the silver particle size ranges from 0.005 – 0.015 microns, (verified by scanning electron microscope technologies).  The Silver Pulsertm converts 16 ounces of distilled water to a colloidal silver preparation, containing 5-8 ppm, (parts per million), in 2 hours.  Further, the silver electrodes that are furnished with it are .9999 pure fine silver, resulting in a primarily silver ion output, with very little contamination from other elements.  (Such contamination levels are so low as to be not significant.)
Dr. Beck was clearly not in this for the money.  He freely posted his research, including detailed circuit designs for the devices he invented and engineered, in the public domain. In fact, if you are so inclined, you can find the circuit designs for both his colloidal silver generator and his immune system electrifier on-line.  A little searching will find them readily available on many sites. 
Then you can buy the parts at a local Radio Shack for less than 60 bucks.  A number of years ago I actually did this just to see what was involved.  I built a Beck micro-pulsing unit that worked, but concluded that for most people building one of these units is not worth the time and effort.  I am mostly pointing out this option to demonstrate that Dr. Beck truly was not in this for the money, but rather was dedicated to helping people seeking improved wellness.
Beck Protocol Summary:
The Beck protocol for defeating and preventing disease is extensive, and its safety and effectiveness are well supported by a long history of anecdotal as well as more purely scientific research and study.  There are a number of elements to the Beck Protocol, which are available for study. 
In this summary, I am including just the 2 elements to the Beck Protocol that Dr. Robert Beck considered to be the most critical.  They are the ones I have relied on most heavily over the years.
Electrical Stimulation Of The Immune System:  For decades now, many immunologists have known that small electrical charges are critical to the chemical reactions that the cells in our immune systems use to kill pathogens. 
Dr. Beck came up with a practical way to increase the electrical charge of the specific immune system cells that are carried in the blood stream.  His research demonstrated that increasing the electrical charges that these cells carry improves their ability to kill most pathogens. 
This part of the Beck Protocol, using a Silver Pulsertm, or a similar device, (including a home-made one if you are so inclined), calls for wearing the device for 2 hours each day that your immune system is under threat, or that you are working to overcome an existing infection.  (Claims exist that Dr. Beck's protocol is useful even for helping to eradicate a number of serious health problems.  Evaluating these claims is beyond the scope of this review, but I would not discount them out-of-hand.)
According to the Beck Protocol The Silver Pulsertm, or equivalent micro-pulse generating device, should be strapped to the inner forearm, near the elbow.  The 2 electrodes should be covered with the cotton sleeves that come with the device, which are then moistened with a solution of sea salt and distilled water.  They need to be positioned on the inner wrist area, each positioned over one of the two wrist arteries that are commonly used to feel for a pulse in that area.  (These are the radial and ulnar arteries.  You can find images of them on the Internet to be sure exactly where they are.) 
Once the device and the electrodes are in place, (the Silver Pulsertm comes with elastic straps with Velcro fasteners to make this easy), turn up the voltage until you feel a slightly uncomfortable, throbbing pulse.  Immediately turn it down to a level that you can still feel, but which is comfortable.  The pulse should be noticeable, but in no way uncomfortable.  Wear the device for 2 hours at least once a day.  For more serious or persistent problems, consider a session in the morning and one in the evening.
It is estimated that it takes approximately 2 hours for the entire blood supply to pass any given point in the body.  That is why Dr. Beck recommended a 2 hours session for blood electrification – so that all of the appropriate immune system cells could be charged.
Several Cautions With Blood Electrification:  If you build your own device, make sure you test it carefully to make sure that the electrical output is within spec.  (You don't want to shock yourself.)  The Sota models are safe in this respect.  The Sota Instruments Silver Pulser, or any such Beck micro-pulsing device if properly built, delivers voltages that are lower than those found in approved "Tens" units that are commonly prescribed for pain management. 
If you have a pacemaker, it would be prudent to check with your cardiac health care provider before following the blood electrification protocol.  I have never heard of a problem in this regard, but because of the potentially serious consequences it pays to be more cautious.
Another serious caution in using any form of blood electrification is a phenomenon called: "cell electroporation".  This is simply the tendency of cell membranes to become more permeable when exposed to small electrical currents.  In practical terms this means that pharmaceuticals may be more effective as higher quantities and concentrations of them may penetrate your cell membranes.  So if you are taking any strong pharmaceuticals you may need to pay more attention to doses for the 24 hours before you use the device and the 24 hours following its use.   Failure to heed this cuation could lead to accidental overdoses of the pharmaceuticals.
By the same token, be careful about exposure to toxins, such as nicotine from the use of tobacco products, using solvents, etc. for the 24 hours before and after using the device.
A minor caution is that wearing the device repeatedly may cause some skin irritation just wear the electrodes make contact.  This is easily overcome by alternating arms between sessions, and by applying a safe, non-toxic skin treatment such as pure lanolin or pure aloe vera gel to the irritated area.
Generating And Using Colloidal Silver:  A second primary element of the Beck Protocol is the use of colloidal silver.  Here's how I do it:  I use a good quality, very clean drinking glass, filled with distilled water.  I clean the silver wires with the cleaning pad included in the kit.  I connect the silver rods to the device, insert them into the holder and then into the water.  I turn on the device and set my timer for 2 hours.  At the end of 2 hours, I remove the rods, turn off the device and my colloidal silver is ready to use.
If you are new to the use of colloidal silver, it is recommended that you obtain advice from an experienced and knowledgeable health care provider.  I know of no problems with the use of colloidal silver, as long as it is properly prepared, but lots of people seem to have concerns about its use.  To alleviate these concerns and to be sure you are using it safely and appropriately, I recommend obtaining guidance from a qualified source to get started.
Such advice is beyond the scope of this review.
By the way, the electrification protocol that the Silver Pulsertm uses, and that is recommended in Robert Beck's protocols is very different from that promoted by Dr. Hulda Clark.  It also is different from the protocols and effects of Rife Machines.  In some circumstances it may be desirable to combine the Beck protocols with the Rife and Clark protocols.  This may be helpful in dealing with more challenging situations.
Sota Instruments produces a number of high-quality health products that rely on cutting edge technology.  By using the link below, you will be able to purchase directly from Sota Instruments, at a 10% discount fopr your first purchase.  And you will have access to their valuable library, including articles and videos that will assist you in proper use of the Sota Instruments products. 
Here is a link that will show you how to get started:  Logging Into The Sota Instruments Web Site
Please feel free to post your questions in the comments section for this post.  Also, please e-mail me if you are interested in obtaining a copy of the Beck Protocol document.
To your health!
Jeff Bell
IMPORTANT DISCLAIMER:  The opinions stated are the views of [insert Retailer/Company Name] and do not represent the opinion of SOTA Instruments Inc. The SOTA units are consumer products designed for relaxation, well-being and to complement a healthy lifestyle. The SOTA units are not medical devices nor are they intended to diagnose, treat or cure any medical or health condition. The use, safety or effectiveness of the SOTA units, has not been approved by any government agency. Please consult a health practitioner for any medical or health condition. Results are not typical.