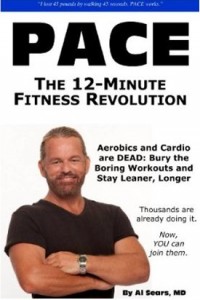 Are you finding it increasingly difficult to set aside the time to maintain or improve your fitness? 
You are not alone!  I experience the shortage of time, myself.  And all day long I talk with people who are grappling with the same frustration.  With everything it seems we need to do these days, it has become really tough for most of us to stay fit, let alone increase our fitness.
Yet, we all know that maintaining good overall fitness, and especially cardio fitness is a critical key to enjoying a long and healthy life.  Not only that, our level of physical fitness profoundly affects our mental and emotiuonal fitness.
A couple of years ago I was introduced to the revolutionary fitness research of Dr. Al Sears, M.D.   His P.A.C.E. program, which stands for "Progressively Accelerating Cardiopulmonary Exertion", turns most of the conventional wisdom about fitness on  its head. 
And yet, there are too many people using it and having great success with it to dismiss it.  Not only does it allow one to achieve and maintain high levels of fitness in a fraction of the time required by conventional programs, but it also seems to result in much higher overall levels of fitness for many who use it. 
In the nutshell the principles that underly Dr. Sears PACE program are simply these:
1.  Human beings evolved over a few million years without the need to run for long periods of time.  Rather, short periods of high speed were required to catch our prey ro to avoid becoming prey.
2.  Long periods of exertion at a moderate level, (what is commonly known as the "aerobic target zone"), actually seem to shrink the heart and lungs and decrease their capacity.  In contrast, much shorter periods of much higher exertion levels expand the heart and lungs and increase their capacity.
In this clear, well-written book, Dr. Sears lays out his case.  If you are sufficiently convinced to give it a try, you will also find the clear and complete instructions you need to put together your own ideal program. 
Perhaps this sounds too good to be true, but by employing the PACE methods you really can achieve and maintain excellent fitness by spending less than 1/2 hour a day. 
Quite amazing!  Check it out.   Pace: The 12-Minute Fitness Revolution
To your health and fitness!
Jeff Bell
If you decide to give this a try, please comment on this post, or e-mail me with your story:  jeff@myhealthoptimizer.com