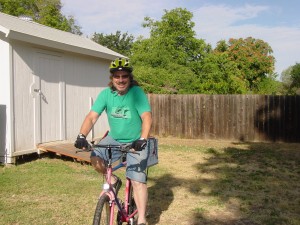 OK, so it isn't really a car.
 
Recently, I was going over the finances and noticed that we had been spending a lot of money on maintaining my car.  I have an older 240 Volvo station wagon, with about 150,000 miles on it.  It is in good condition.  I take good care of it, and drive it carefully.  I hope to have it for another few hundred thousand miles. 
I got to thinking about why it seemed more expensive to maintain the car than I thought it should be, especially given the relatively low number of miles I drive it every year. 
The obvious answer is that a lot of those miles were short trips to the local farmer's market, and other local shopping trips, local meetings, workshops and so on.  This is the worst wear and tear you can put on a car – start it up and drive it just a few miles.  Experts say that if 30% of your mileage consists of these short, local trips, you can expect your maintenance costs for most cars to double!  It's also much worse for the environment to drive these local, short trips than to use the car for longer trips.  The car produces a lot more pollution when it is warming up than it does when the engine is running at steady operating temperature.
I decided to take to do something about this.  I purchased old, beat-up mountain bike for ten dollars at the local thrift store.  I put about $100 into it for new tires and tubes, a rack and basket for the back and a few other things to make it serviceable and safe.
Last night I finished putting the bike back together, having serviced all the mechanical parts.  This morning I took it for its inaugural shopping trip.  I rode to the local market, which is about 1 mile away, and bought a large watermelon and some coffee.
It was easy.  I had a good time and I felt great about not using the car.  Just for kicks and a little extra fitness, I threw in a couple of intervals.  The bike is neither light nor fast, but that just gives me a little extra health dividend.
This older bike is not fancy and it does not look expensive.  It's paint job is reminiscent of a bad Jackson Pollock imitation.  That's great – it is less likely to be a target for local bike thieves.  I do have a cable lock just to help remind honest people to stay honest. 
Besides having some fun, saving money on my car's fuel and maintenance, and being a little easier on the environment, I noticed that my stress level was lower when I returned to work.  What's not to like?
I plan to schedule my local trips so that I can use the bike most of the time, and save the car just for longer trips.  This means planning my shopping trips during the day so that I don't have to ride at night.  (I don't feel safe riding at night around here.)  But based on this morning's experience I am predicting that I will get more work done by taking a short break to shop during the day.  I am sure my stress level and my focus will be the better for it.