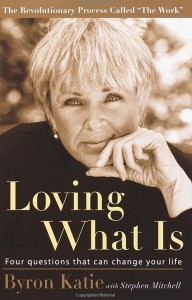 Wouldn't you love to be able to clear away your most painful emotions by handling them successfully?  Mentally and emotionally you could be at peace with yourself and with everyone you know.  Sounds too good to be true?
In "Loving What Is", Byron Katie suggests a practical solution to much of what torments us in life, emotionally and spiritually.  If this seems like an unusual book to review for this website, please remember that no matter how much physical healing you achieve, the emotional, mental, and spiritual components of your life are crucial to your well-being and happiness.
…
According to Katie (she prefers that name to Byron), there are four questions to ask yourself about anything in your life that emerges as a problem – usually where you are at odds with reality as it appears to you. 
1.  Is it true?
2.  Can I absolutely know that it's true?
3.  How do I react when I think that thought?
4.  Who would I be without that thought?
She says that our ideas and thoughts, no matter how disturbing, are not the problem.  It is the attachment we develop to these thoughts, the "stories" we create based on the thoughts that gets us into trouble.
The process of delving for honest answers to these questions she calls the "Work."  Doing the Work allows you to go inside and find your own happiness.
According to Katie, by applying her techniques (which start with the above questions) you can gradually find your way to a more peaceful and fulfilling personal life.
Some of her concepts will sound familiar, and others may seem more radical.  Anyone who has dipped into the 12-step CoDA program will recognize her reference to "staying in your own business" and not trying to fix or control the lives of others.
Katie discusses ideas which are radical in our society, and which require courage to apply in our own everyday lives.  She brings up common "core beliefs," the concepts around which we base our behavior, and says that these rules we learn in our society are part of the reason we are unhappy.  Often they directly contradict reality, and as long as we ignore reality, we will be in pain.
I don't want to give away all of her original and exciting ideas, but some of the unquestioned core beliefs she brings up for critical examination are: 
♥  It's possible to be in the wrong place at the wrong time
♥  Life is unfair
♥  It's necessary to know what to do next
♥  I can feel your pain
♥  Children should love their parents
Her book is peppered with uncommon insights like:  
"We don't need to wait for people and situations to change in order to experience peace and harmony." 
"I don't let go of my concepts. I meet them with understanding and they let go of me."
Katie's bottom line is:  "I realize again that I am the one I have been waiting for to heal me."   
What's so refreshing in this book is that she guides you to find your own power through the Work.
Check out  Loving What Is: Four Questions That Can Change Your Life
To your joy!
Sue Hummel