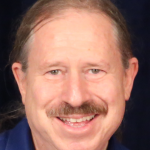 OK, I didn't really kiss the wart.  But it is gone.  Let me back up for a minute here.  When I was 13 years old I badly injured the tip of a finger on my left hand.  My fingernail turned a few ugly colors and eventually fell off.
When it grew back, it had this ugly, inconvenient wart under it.  I tried a number of the common remedies available at the time.  None worked.
Finally I went to see a surgeon who removed the nail and then burned the wart off.  46 years later I still cringe to think about what a painful procedure this was.  Good thing I did not know how much it would hurt before I agreed to have it done.
To add insult to injury, when the fingernail grew back, so did the wart.  Since then I have tried a number of remedies, most of which did nothing at all.  A few seemed to shrink the wart a little, but then it always grew back to its full size, or maybe even a little bigger.
Keep in mind that this was a wart that was mostly underneath a finger nail, so it was hard to treat with anything.  Also, due to its unusual location it was quite a nuisance.  It frequently caused the end of my finger to hurt while doing normal activities such as typing, playing guitar and so on.
Over the years, various doctors have offered to again remove the nail and burn the wart away.  No thank you!
Those of you following my blog know that I have been taking MMS for a while now.  (See my other blog posts about MMS.)  There is plenty of research about using MMS to get rid of warts.  However, I initially assumed that because of its well-protected home under a fingernail, the MMS would not affect it anymore than the other wart remedies had.
About 4 days ago I decided to try the MMS on the wart anyway.  I figured, what the heck – nothing to lose.  So twice a day, as soon as my MMS dose was activated I dipped the end of my finger into it for about 10 seconds.  I then held my finger pointed straight up for about 30 seconds.  I figured I would let gravity help pull the MMS into the wart.
Last night I noticed that the wart was gone!  Amazing!
Here's my working theory:  We know that MMS blasts viruses very effectively.  Warts are caused by a form of the human papillomavirus, (HPV).  So it makes sense that if there is a way to get the MMS into contact with the wart and keep it there for a little while, the virus will die and the wart will be gone.  In this case the big problem was how to get the MMS in good contact with the wart without removing the fingernail.  I believe the MMS is thin enough and yet has enough surface tension to work its way between the surface of the wart and the underside of the fingernail.  Capillary action is the technical name for this phenomena.
In my case, having the nail there actually helped to get the MMS into more prolonged contact with the wart.  For warts on open skin there is nothing to hold the MMS in place.  For exposed warts another way is needed to get the MMS to remain in contact with the wart for long enough it to be effective.
Look soon on this web site for another blog post and article about using MMS with DMSO.  That seems to be a great way to get rid of open skin warts.
By the way, even though I have lived with that wart for 46 years and was quite attached to it, I don't miss it.  I won't be holding a memorial service for it.