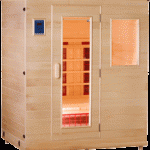 For some time now I have been investigating Far Infrared saunas from different manufacturers.  Some years ago, when I first experienced the wonderful benefits of a Far Infrared Sauna, there were very few available, from only a couple of sources. 
Since then, the benefits have become much more widely known, and consequently there are now a number of sources.  The overall technology has improved and at least some manufacturers have taken advantage of the additional formal research as well as feedback from many people using these units, to improve their designs. 
This is a good thing.  But it also has made it more challenging to choose the right one.  Along with a divergence in technology, there has been a significant spread in pricing.  At the low end, one can find "bargain" Far Infrared Saunas designed for 2 people for around $1,200.00 (in the U.S.).  At the higher end, a two-person Far Infrared Sauna can cost $5,000.00 or more, (also U.S.)
Before I get into specific models and recommendations, let me take moment to explain the difference between conventional saunas and Far Infrared saunas.  Most of us are familiar with conventional saunas.   In those, there is a bed of hot rocks, which radiate the heat to heat up the air in the whole sauna, typically anywhere from 140 degrees Fahrenheit on up to as high as 170.  The air, in turn, heats your body.  In addition, it is customary in many conventional saunas to pour water on the hot rocks, generating steam.  This makes them more effective. 
Many people find conventional saunas quite stressful.  Some do not enjoy trying to breath the hot air.  And I generally do not recommend them for people who are ill. 
In contrast, the Far Infrared sauna works by having emitters, or "Far Infrared heaters", which generate Far Infrared rays, that penetrate deeply into the body.  These help the body to release toxins, stimulate blood and lymphatic flow, and help muscles to relax.  They do NOT depend on heating the air inside the sauna.  The air gets warm as a side-effect of the emitters, but it does not get hot, nor does it need to.  In fact, many people who do not like the heat at all, leave the door open on their Far Infrared saunas and still get the full benefit. 
Some people have not enjoyed saunas because being in a small, closed room makes them feel uncomfortable.  Since you can even leave the door open in a Far Infrared sauna this is not a problem with them.  In fact some Far Infrared saunas even have  fan so that you get plenty of cool, fresh air as you enjoy your sauna.  This does not seem to detract from the health benefits one bit. 
Until now I have not felt ready to recommend any specific Far Infrared Sauna.  Delving into the engineering of them is truly a complex and involved endeavor.  Quite a bit of physics and advanced cellular and micro biology are involved.
I have finally put enough time and research into this complex subject to feel confident in a recommendation:
I believe that the Far Infrared Sauna line by High Tech Health, International, is an excellent product line that encompasses superb engineering, is well fabricated, and offers some outstanding health features at a reasonable price. 
Their two-person unit at $3,495.00 plus shipping, is in the mid-price range.  But it is clearly in the upper end from a quality and feature standpoint.
The differences in the actual far infra-red heating elements among different manufacturers are quite widespread.  And the resulting differences in health affects can very significant.  The most important health aspect of the heating elements is that they must be designed, fabricated and made from materials that result in an element that does not put out a lot of EMF, which is not good for living things, including human beings.  Without going into the physics, I'll just say that the heating elements designed and manufactured by High Tech Health, International are done right.  A number of manufacturers use questionable approaches and questionable materials in the manufacturing of their heating elements.  This could create its own set of health risks.  You needn't worry about this when it comes to the heating elements from High Tech Health. 
An interesting and unique feature of the High Tech Health Far Infra-Red Sauna is that it is constructed from poplar wood.  Almost all others are constructed from cedar wood.  When I asked their engineering staff why they made the choice to use poplar wood, here's what they told me:  Cedar wood has been a traditional material for both conventional and Far Infrared Saunas for as long as they have been around.  The reason is that cedar is highly rot resistant and weather resistant.  This is desirable in a sauna that is out in the weather, being rained on and fully exposed to the elements.  However, there is a price to be paid for this weather resistance.  The very same organic chemicals that are naturally occurring in the cedar wood and that make it resistant to weather damage also are somewhat toxic to humans, and also more likely to provoke allergenic reactions.  While the toxin is not strong enough to have dramatic effects for most people, it can and does put a load on the immune system, and so at least some of the health benefits are offset for most people. 
With conventional sauna technology there is good reason to locate the sauna as a stand-alone building, or otherwise well isolated from living quarters.  They generate and use a significant amount of conventional heat.  In contrast, Far Infra-Red Saunas use an electrically-generated radiant energy that is very close to light in characteristics.  There is very little actual heat involved.  So there is no need to isolate a Far Infra-Red Sauna from other structures. 
In fact, the very first time I ever used a Far Infra-Red Sauna, it was located in the spare bedroom of the house.  It had been assembled right there, set directly on the carpeted floor of the bedroom, and there was no extra insulation or anything isolating it from the rest of the house.  It did not cause the rest of the house to heat up.  And it was quite convenient as the shower was right next to the spare bedroom.  It turns out that placing Far Infrared Saunas in a spare room, or in a dual-use room, is actually quite common.   Lots of people do this and find it works out very well.
And although some people do place their Far Infrared Saunas outdoors, most are located under a patio roof or other partial protection.  So using cedar is not required.
So why use poplar wood?  Well, I've pointed out why cedar may not be such a good choice because of the significant health problems that can result.  Poplar wood is as close to neutral as possible, in terms of allergy factors, as well as other negative health effects.
Overall, I believe that the Far Infra-Red Saunas from High Tech Health, International are excellent, and represent a truly good choice and a good value. I am confident that the health benefits will be more than worth while.
High Tech Health now offers saunas in sizes from 1-person on up to 4-person.   The High Tech Health Far Infrared saunas come as a set of modules that can be easily assembled in less than a half hour.   You can set your sauna up indoors or on a covered patio.  All sizes are 73 1/2″ high.  The 1-person model is 36 1/4″ wide by 36 3/8″ deep; the 2-person model is: 49″ wide by 40 1/2″ deep; the 3-person model is 60 1/2″ wide by 44 1/2″ deep; the 4-person model is 70 1/2″ wide by 49 1/2″ deep.  All but the 4-person model operate on 120 volts or can be special-ordered to operate on 220 volts.  The 4-person model requires a 220 volt circuit. 
We have a High Tech Health Far INfraredsauna, which I use nearly every night.  I know that it is helping me to keep my body as free as possible of toxins.  It feels great to take a nice sauna after a hard workout or a day of hard work.  I find that I recover from whatever the stresses are if I take a sauna.  In short, I love it.  I sleep better after a Far Infrared sauna.  It also boosts the immune system.  (Far Infrared saunas are standard equipment in all of the best German medical clinics.)  If I start to feel a cold coming on, I take 2 Far Infrared saunas a day and I don't get the cold!  It is one of the best health investments I have ever made. 
To find out more, click here: Far Infrared Sauna.  This link takes you to an overview page.  For still more information click the Request Info TAB in the top menu bar.
If you do contact High Tech Health for more information, please let them know that I referred you.  That will entitle you to a substantial discount should you choose to purchase one of their saunas. 
Or feel free to e-mail me with your questions.  jeff@myhealthoptimizer.com
To your health!
Jeff Bell