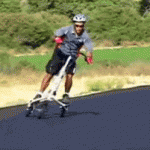 So I've got this cool new vehicle for fun and fitness that I'm learning to ride.  My new toy is a 3-wheeled human-powered scooter called a "Trikke".  It is terrific for fitness and lots of fun to ride.
However, it is not quite as easy to learn how to ride as it looks.  I am still getting the basics down.  It's quite stable and easy to control.  But when you go over bumps or if you go over loose material like leaves, gravel and so on, if you aren't paying attention the front wheel can slide sideways and go right out from under you.
This morning I was out for my first longer ride, and I let my attention wander at just the wrong time.  Before I knew it I had crashed.
Of course people saw me crash so my ego was pretty badly bruised.
I also sustained a few physical bruises.  At this point I don't think any of my injuries are serious, but one of them was quite painful.  I landed on the pavement rather hard on the front of my body, with my left arm out to try and break the fall.  I ended up bruising my upper chest on the left side, and I pulled a few of my intercostal muscles.  (Those are the muscles between the ribs that help us breathe, among other things.)
So it was actually quite painful to breathe.  And moving my upper body was not comfortable, either.
When I got home from my ride, I went straight to my holistic first aid kit.  I immediately took about twice my normal amount of Organic Sulfur.  That was to begin my healing from the inside.  On the outside, I carefully washed the skin on the bruised area and on the outside of the area where the pulled muscles were.   Next I slathered on a generous coating of pure DMSO.
Within about 2 minutes almost all of the pain was gone, and I was able to breathe and move normally again.
I still don't know what to do about my badly bruised ego.  But I figured since I crashed and could not undo my inattention I might at least get some benefit out of the experience.
Here it is:  I was reminded all over again of just how remarkable both the Organic Sulfur and the DMSO are as separate healing agents.  And this reconfirmed that used in combination they are simply amazing.  They work miracles for injuries such as the one I caused myself this morning.  And they are terrific for chronic pain, particularly joint pain.
So if you have chronic joint pain, or pain from an injury, you might want to consider using DMSO and Organic Sulfur.  Together they relieve the pain at least as well as the strongest drugs known to man,  and they have a major advantage over the drugs in that they accelerate the healing dramatically.  The strong drugs actually retard the healing by slowing down the metabolism.
However, to be safe and effective, they must be of very high quality, very pure, and properly prepared and used.  If you would like to know more about this, send me an e-mail and I will be glad to send you my free article on how to use this remarkable pain relief and healing method.  I have used it for many, many years with wonderful results.
Also here is a link if you want to learn more about a Safe and Effective Organic Sulfur in MethylSulfonylMethane form.  (This is frequently abbreviated as MSM.  However, beware that almost all of the products on the market that are labeled as MSM are either of very limited effectiveness or not effective at all.  To learn more about this problem with almost all MSM and what to do about it, please see some of the other posts on this site about Organic Sulfur.)
Send your article request to:  jeff@MyHealthOptimizer.com   Please let me know that you want my article on "How I Fix Up Sore Joints".
To your health!
Jeff Bell