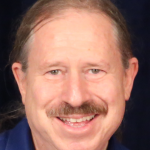 For decades most holistic health experts, naturopaths and others have recognized the importance of a proper acid alkaline balance in the human body.  There is widespread agreement that living in our modern, industrial environment renders many of us far too acidic and that this leads to poor health.  Further, this leaves us vulnerable to many serious, chronic health problems such as arthritis, vision problems, neurological disease and even cancers of various types.
Further confirmation of the importance and health benefits of a relatively high alkalinity comes from the spa traditions from all over the world.  If you measure the PH of the water in all of the famous spas around the world you find that it is high.  For example, the water at the famous Lourdes Spa in France has a PH of about 9.5.
A Little Background About PH:
"PH" is a measure of where a given substance falls on a standard scale from acidic to alkaline.  There is controversy about exactly what PH stands for.  I think the most likely candidate is "Potential Hydrogen".
But this can be a bit confusing.  In an aqueous solution, which is any water-based solution, there are a certain number of dissolved hydrogen ions.   The greater the number of dissolved hydrogen ions in a given amount of the solution the more acidic the solution is said to be.  The fewer dissolved hydrogen ions in a given amount of the aqueous solution the more alkaline the solution is said to be.
What can be confusing is that the actual numbers assigned on the scale for measuring PH are higher when there are fewer dissolved hydrogen ions in the solution.  So a solution with a PH value of 8.5 for example, actually has far fewer dissolved hydrogen ions in it than a solution with a PH value of 6.  I warned you that it could be confusing!
But what is important is to understand that the lower the PH number the more acidic the solution and the higher the PH number the more alkaline the solution.  Furthermore, the scale is a logarithmic scale, so the difference between a PH value of 6.9 and a PH value of 7.0 is quite significant.
The PH scale starts at 0, which is as acidic as a solution can be, and runs all the way to 14, which is as alkaline as a solution can be.  There are complex reasons why the numbers on the PH scale run exactly opposite to the number of dissolved hydrogen ions.  The scale was probably designed that way to facilitate its use with standard chemical equations having to do with molecular measurements.
You don't really need more detail about PH to understand the crucial information about PH values for good health and how to measure them.  However, for those wanting the detail, here is a good place to start:
http://en.wikipedia.org/wiki/PH
What Is A Healthy PH Value For The Human Body?
That is actually a complex question that cannot be answered simply.  Different parts of the human body are supposed to be at different PH levels at different times.  So there is not one single value that is optimum or even acceptable.
There is, however, one exception to this constantly shifting PH picture.  Human blood remain very close to 7.365 just to sustain life.  In order to maintain the blood PH at this level, your body will modify the PH of nearly anything else in your body.
Let's look at an example:  When the essential mineral calcium is dissolved in a solution will increase the alkalinity of the solution.  If the blood starts to become too acidic, one of the ways the body corrects that is to leach calcium from the bones and dissolve it in the blood.  If this happens enough significant bone density will be lost.  This is known as osteoporosis.
When calcium is leached out of the bones as the body tries to neutralize excess acidity, or a PH that is too low) in the blood, this also increases the tendency for calcium deposits to show up where they are not wanted, i.e. in the lining of arteries.  These unwanted calcium deposits can also show up in the bursa, or lubricating sacs enclosing most joints.  This is one of the common, but all-too-frequently ignored primary causes of arthritis.  (When is the last time you heard a conventional physician advising an arthritis patient that they are too acidic and recommending that they raise their PH?)
What Causes Excess Acidity?
Stress, poor diet, drinking carbonated beverages and lack of exercise are some of the factors that can make the body too acidic.  Of course, if these conditions go on for too long, the blood will start to become too acidic.  As we learned above, in order to neutralize the excess acidity in the blood the body starts to leach calcium from the bones and put it into the bloodstream to neutralize the excess acidity.
Is it any wonder that osteoporosis is such a widespread problem in much of today's world?
In addition to those listed above, here are a few more common causes of the excess acidity that plague so many of us in today's modern world:
Lack of sufficient sleep
Poor quality sleep
Poor diet
Diet not well suited to the individual
Excess sugar in the diet
Chronic shallow breathing
Insufficient hydration
Inadequate time spent outdoors (natural sunlight helps maintain proper PH)
Poor digestion
Insufficient chewing of food before swallowing
There are more, but these are the most common causes of excess acidity.
What Are The Common Problems Caused By Excess Acidity or Low PH?  (In this article I use "Excess Acidity" and "Low PH" interchangeably.  They are nearly identical – the subtle differences are not significant for the purposes of this discussion.)
The following is a partial list, including only the most common health problems caused by or made worse by excess acidity:  (A few have already been mentioned.)
Cancer – both prevention and recovery are adversely affected *
Increased susceptibility to diabetes
Increased difficulty controlling diabetes
Poor digestion
Gout
Gallbladder disease
Kidney disease
Heart disease
Osteoporosis
Loss of mental clarity
Poor sleep
Premature aging
Arthritis
Mood swings
Dental and gum disease and deterioration
Poor cardiovascular fitness
Poor eyesight
Varicose veins
Weakened immune system
Increased susceptibility to autoimmune diseases
Frequent muscle cramping
*  All of the best German cancer clinics, (arguably, based on results, the best cancer clinics in the entire world), include raising the PH levels relatively high as a major element of their anti-cancer therapy programs.
I could add more, but those are the more common major problems caused by excess acidity.  That should be enough to motivate most people to learn how to properly and accurately measure their PH levels and how to raise them if need be.
How Do I Accurately Measure My PH?
The first thing we need to know in order to answer that question is what to measure.  For example, we already know that our blood must be maintained very close to 7.365.
Because our bodies will do just about anything to keep our blood in that range so that we can remain alive, using blood to measure the PH of our body is neither useful nor practical.  Because our bodies will do just about anything to keep us alive, significant variations in blood PH are the last thing we will see in someone whose PH levels are off.  By then it will be way to late.
A lot of so-called experts on PH for health recommend measuring the PH of either our urine or our saliva.  In fact, the instructions that come with most PH test kits sold as human health aids even recommend measuring urine or saliva.  However, this actually turns out not to be a very good approach.
Our saliva PH levels very widely over even a relatively short period of time.  And seemingly subtle influences change it quickly.  I recently demonstrated this in a workshop:  I measured my saliva PH at 6.8.  Then I did some deep breathing for about 2 minutes and immediately measured it again.  This time the result was 7.2.  That is a huge change in a very short period of time.  It clearly demonstrates that saliva is not a very reliable and consistent means for measuring the PH level in our bodies.
Urine also is not a reliable fluid for determining body PH levels.  While it does not change nearly as quickly or radically as saliva, it still does not produce results that can be reliably interpreted.  For example, suppose I test my urine and find it to be 6.9, (or just below neutral).  That is lower than the ideal level for my body, indicating that at least my urine is somewhat acidic.  But how do I know whether that means my whole body in general is too acidic or if my body is just utilizing my urinary tract to discard some excess acid?  The answer is that I don't know.  And there is no practical way to determine that without more complex tests.
So how do I reliably test my PH level?  What I really want to know is what the PH level is of the "inter-cellular fluid" – the aqueous moisture in between most of the cells in my body.  So we need to find an easily accessible body fluid that closely correlates to this inter-cellular fluid in PH level.
It turns out that the tear fluid in our eyes is perfect for this.  Whatever PH level we measure in our tear fluid very closely matches that found in the inter-cellular fluid of the body.
Here's how we can safely and accurately measure the PH of the tear fluid from our eyes:
Stand in front of a mirror with your PH measuring kit nearby and ready.  (Type of kit and sources are listed below).
.
Rapidly but gently blink your eyes about 30 times to build up some excess tear fluid.  (Never blink or squint your eyes hard as doing so can damage the delicate structures in your eyes.)
.
When you have built up sufficient tear fluid, gently roll down the lower eyelid of one eye.  (I pick whichever eye looks like it has the most tear fluid built up.  Or I arbitrarily pick one if there is no obvious difference.)
.
Gently and carefully I bring the end of the PH test stick that has the sample dots on it close to pool of built up tear fluid until the fluid flows onto the stick and saturates the test dots.  I am very careful not to actually touch my eye with any part of the stick.
.
As soon as the test dots are saturated, wait the recommended 15 seconds and then match the colors against the chart that comes with the PH test kit.  (Most kits are designed for you to wait 15 seconds.  Some may specify a different amount of time.  I would follow that part of the directions that come with your kit.
.
Note the level indicated by the test.
That's it.  You now know with amazing accuracy what the general PH level is in your body.
What PH Level Is Ideal?
This is another question that has no really simple answer.  For most people a level that is slightly alkaline is generally healthy.  If you have no outstanding serious health issues that may be related to PH, (see lists above), then a PH of 7.3 to 7.8 is likely going to serve you well.
If you do have health issues that may be related to PH levels or affected by them, then you may want to work with a natural health professional to re-balance your PH level.  Obviously, this needs to be a practitioner knowledgeable and experienced in both PH level management and whatever health conditions you are seeking to address.  If you do work with a natural health professional you may want to share this article with him or her.
Over many years, I have found that there seem to be lots of natural health professionals who are knowledgeable in dealing with specific health conditions and who know how to manage PH levels, but who do not know how to measure PH accurately.  Seems crazy, but far too many still rely on the urine and saliva methods, which we've seen are far from ideal.  There is nothing wrong with teaching your health care provider something useful!  Many of the most valuable things I have learned in the field of natural health have come from my clients.  They frequently bring new research and articles to my attention.
Keep in mind that the value range of 7.3 to 7.8 is for general health.  For a number of health conditions, cancer most notably among them, the values should be much higher.  The famous Hoxsey Clinic in Mexico often recommends that their patients boost their PH levels to 9.5 until the cancer is completely gone.  To prevent the cancer from recurring they recommend maintaining a level of 8.5.
Many of the world's best cancer clinics, (most located in Germany), help their clients to achieve levels similar to those that the Hoxsey Clinic promotes.
Other conditions seem to respond well to other levels.  And there is some controversy, even among natural health professionals about what is ideal.  I suspect that this is an individual factor that is best "tuned" to the individual.  This is why I recommend working with a natural health professional in this area.  This area of health can be complex.
Ultimately, I like to be guided by results.  Things that work well for a given person are most likely right for that person.  If something is not working or not working well, then it either needs to be combined with other measures, or it may not be right for that person.
I believe that in all areas of health if the results are not optimal then some informed analysis and thoughtful adjustments are indicated.  Results are the ultimate measure of effectiveness.
That is one reason why I highly recommend that anyone dealing with any serious health issue maintain a journal that lists:
What measures are bring used
Any test results obtained
Adjustments made
Results in terms of how you feel and how the condition or conditions seem to be responding
Because health issues frequently can become complex and it may be challenging to figure out what is working and what is not, particularly when multiple health measures are being employed, a journal can be an extremely valuable diagnostic tool.  Maintaining a journal also empowers you to better take control of your own health.
What Test Kit Should I Use?
This is crucial.  I have tried lots of different test kits.  Only a few seem to be accurate and even fewer are suitable for using the method described in this article.  I recommend the test kits that include a bunch of small, individual test strips, each having 2 square "test dots" on one end.  These typically come in kits containing anywhere from 50 to 100 test strips.  The plastic boxes that the strips come in also include a color chart.  The increments typically are .5 at both ends of the scale, and decrease to .25 nearer the middle of the scale.  That is sufficient precision for our purposes.
Each time you use a test strip, you wait the required period of time, (usually 15 seconds – included in the kit's instructions), then you match the 2 "test dots" to a set of 2 sample colors that go together.  This "double match" makes the test highly accurate when properly done.
Here is a picture of a typical PH test kit that I would use and recommend.  Yours does not have to be exactly the same, but it should include individual test strips and should require matching 2 colors each time you test.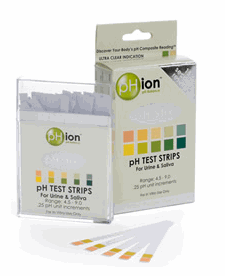 It may take a little extra effort to get the right test kit.  But it is worth the time.  Many health food stores and nutritional supply stores carry PH testing kits that meet our needs.  Of course, you likely can find sources on-line, as well.  Just be sure that your kit contains individual test strips that each have 2 test dots on one end, and that the kit is intended for PH testing.  (There are other test kits that look similar but are for testing other factors and not for PH.)
.
.
OK, I Have My Measurements.  Now What?
Depending on what health conditions you are dealing with, if any, and what PH levels you are consistently measuring, you may want to employ some measures to adjust your PH level.  For example, many people who suffering from cancer will test at levels that are well below 7.0, (7.0 is neutral and is lower than ideal).  In almost all cases they will want to raise their PH level quite significantly.
There are many ways to raise the PH level.  Frequently it can be done through diet, exercise, changing the type and amount of water that one drinks, increasing the amount and quality of one's sleep and more.  For some people, adopting a daily meditation practice or similar practice will significantly raise a PH level that started out too low.
The specifics of diet and water to adjust PH are beyond the scope of this article.  Again, if you are dealing with a serious health problem, or if you just want to optimize your health and prevent disease I encourage you to work with a qualified natural health professional.
Please feel free to post your questions and/or comments in the comments section below.  Or e-mail me your questions and comments: jeff@myhealthoptimizer.com
To your great health!
Jeff Bell