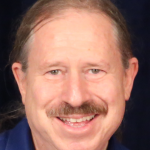 From time to time most of us will experience a stiff or sore neck.  For many years I have relied on a simple trick to attain both instant relief and long term benefits, as well.  I learned this from my first chiropractic and applied kinesiology instructor.
Before I share this simple but highly effective trick with you, I want to cover some basic principles that apply to stiff and sore necks:
As with any health significant problem, focusing on the symptom and ignoring the root cause leads to trouble down the road.  It is similar to putting a piece of masking tape over a warning light on the dashboard of your car.  And even if a "natural solution" that does not involve pharmaceuticals, or other potentially harmful substances, is used to deal with the symptom, one is still suppressing or covering the symptom and not addressing the root cause.
A little later in this post I will list some of the more common root causes for stiff or sore necks.  If you experience a stiff or sore neck on a chronic basis it will pay for you to be sure and study that part of this post.
That said, in many cases, there are good reasons to deal with the immediate symptoms of a health problem, especially as long as you make a commitment to also work with the  root cause.  Not only does reducing the symptoms often improve comfort and quality of life, but in many cases the symptoms themselves can lead to other problems.
In the case of stiff and sore necks, because so much of our bodies' circulation and neurology runs through our necks, chronic neck stiffness and soreness can lead to other serious health problems.  These problems, left unresolved can affect nearly every other part of our bodies.
If you suffer from a chronic stiff or sore neck you could try chiropractic treatments.  That can help and in some cases, especially in the hands of a skilled practitioner, may even resolve the problem completely.  But this approach generally requires multiple visits over time, which can become expensive and may be inconvenient.
In both my own personal experience and that acquired while working with my clients, pharmaceuticals and the like will not do the job.  They may relieve the immediate symptoms, but you can expect the pain to return, in most cases sooner rather than later.  Further, many of these substances are harmful to your overall health.  For example, most pain medications, even over-the-counter ones, have the potential to cause serious liver damage very quickly, even with moderate use.  And again, they do not address the root cause.
So, what to do?  The following is a simple method that just about anyone can use to relieve a stiff or sore neck:
What you will need:  You will need 2 tennis balls.  They can be new or used, and need not be expensive or fancy ones.  You will need a good quality, strong athletic or work sock.  Again, it can be new or used.  You do not need a pair of socks – we are just going to use one for this.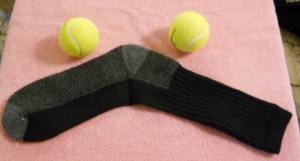 Now let's assemble our sophisticated medical device:  (For any medical regulatory agencies who read this that was an attempt at humor.  I am not illegally promoting medical devices to the public.)
1.  Take the two tennis balls and put them into the sock.  Push them all the way into the toe of the sock, as far as they will go.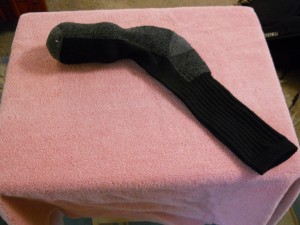 2.  Tie a loose, simple overhand knot on the leg side of the sock.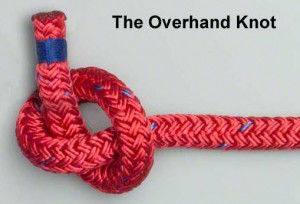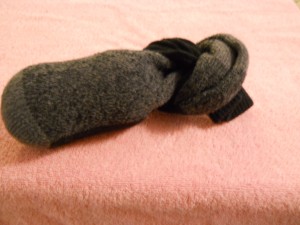 3.  Work the knot down as close to the tennis balls as you can get it.
4.  Tighten the knot so that it holds both tennis balls securely and all of the way into the toe section of the sock.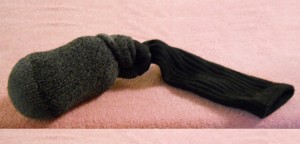 Now that we havge assembled our highly sophisticated medical device it is time to use it to releive that stiff or sore neck.  Ready?  Here we go:
1.  Lie down on a bed, flat on your back.  Your head should be lying directly on the bed without a pillow under it.
This may be slightly uncomfortable but it will only be this way for a  moment or two.
2.  To relieve any tension on your lower back, place a pillow or bolster under the backs or your knees so that they are comfortably supported in a moderately bent position.
3.  Place the sock with the two tennis balls tied into it under the back of your neck.  It should be positioned so that there is a tennis ball on either side of your neck.
4.  Relax and let the weight of your head gently press the back of your neck against the tennis balls.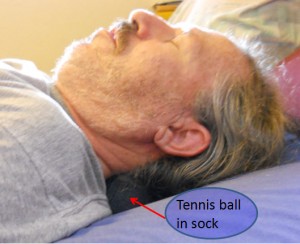 5.  Focus on your breathing, relax and just let gravity do the work for you.  10 minutes is about right for a session.
That's all there is to it!  If you do this every morning and every night whenever you have a stiff or sore neck, you will find that it provides immediate relief.  What's more, over time it will subtly adjust the structural alignment of your neck and improve your overall health.  If this seems too simple to be effective, don't be fooled.  It actually can be remarkably effective.
For increased relief you might consider adding one or more of the following measures:
Rub some "Tiger Balm" salve or "Traumed" homeopathic cream on the back of your neck before lying on the tennis balls.
Try a hot shower before lying on the tennis balls.
Put on some soothing music while you are lying on the tennis balls.
Try the measure described in detail in my article: "How I Fix Up Sore Joints".  If you do not have a copy of this article, please feel free to e-mail me and ask for a free copy.
What else to consider:  Near the beginning of this post I harped on a bit about not just dealing with symptoms, but also paying attention to underlying causes.  Now that you know how to get some immediate relief, let's return to that subject.
Let us consider some common causes for chronic sore and stiff necks:
An obvious one is emotional stress or tension.  For this you might consider "Emotional Freedom Technique" or "EFT", sometimes also simply referred to as "Tapping".  Of course, some of us may benefit from more conventional therapy and similar approaches to reducing emotional stress and "dis-ease".  I see no reason not to use both if you are able.  There are plenty of good books, as well as on-line resources for learning how to use EFT if you do not already know how.  In the last several years, the Ortner Family has hosted several "World Tapping Summits" and many of the presentations can be found on YouTube and on other sites.  Please let me know if you have trouble finding the materials.
QiGong is another great resource for reducing emotional stress and for improving overall health.  I highly recommend Deborah Davis' excellent site for this.  She has a terrific QiGong instructional video that you can use to learn the basics of QiGong.  The results can be amazing, even within a relatively short period of time.   I have a link to her site at the bottom of this post.
Another common cause of chronic neck stiffness and soreness can be one or more mineral deficiencies.  The most common ones causing this problem will be calcium and magnesium.  But please don't run out and buy calcium and magnesium supplements.  Unless you know how to find ones that are truly bioavailable and appropriate for your body, you will be wasting your time and money at best, and you may actually harm your health.
If you suspect or know that you are deficient in calcium or magnesium, here are links to learn what to do about it:
Calcium link:  http://myhealthoptimizer.com/the-truth-about-calcium-supplements/
Magnesium link:  http://myhealthoptimizer.com/a-true-miracle-mineral-magnesium/
Another common cause of stiff and sore necks is a deficiency in Omega 3 fatty acids.  For most of us, our diets tend to leave us with an over-abundance of Omega 6 and Omega 9 fatty acids and a deficiency in Omega 3 fatty acids.  This condition can lead to a number of health problems.  One of the ones that can be most immediately noticeable is an increase in overall inflammation in the body.  This can lead to stiffness and pain in any of the joints in our musculoskeletal system, including those in the neck.
There are a number of really good Omega 3 supplements on the market.  There also are a number of them that I would not consider to be any good.  Sorting that out is beyond the scope of this article.  If you lack expertise in this area, I would recommend consulting a knowledgeable and qualified practitioner. In my opinion this area of health is too important to leave to chance.
Some other areas to look at include the physical setup of how you sleep.  You might want to try modifying the way you use pillows so that you neck is supported but not stressed and so that it is in a healthy position while you sleep.
If you try the "Sock and Balls" method described in this article, please let me know how it works for you.  Please also feel free to post your comments and questions below.
To your great health!
Jeff Bell
Deborah Davis' Spirit Of QiGong instructional video.