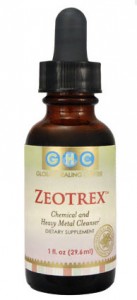 Most people are exposed to many toxic chemicals and heavy metals on a daily basis through the foods we eat, products we use, water we drink, and the air we breathe. Once in the body, heavy metals and toxic chemicals multiply the production of harmful free radicals (by up to one million times) and may cause deadly chain reactions. They poison the body, impairing the function of cells, tissues, and organs, and can ultimately lead a number of serious health concerns.
Zeotrex® is a scientifically formulated supplement that uses the power nano-colloidal zeolites and organic ingredients to safely aid the body in eliminating toxic chemicals and heavy metals. A clean, toxin-free body is the foundation for maintaining optimal health. (1 Ounce)
Zeotrex® is simple to use and yet highly effective.  The recommended way to use it is to take 10 drops of the tincture in 2 ounces of good drinking water on an empty stomach.  This should be done twice each day, once in the morning and once in the evening until all significant signs of heavy metal presence in the body have been eliminated.  
Here is a link to either learn more or to order:  Zeotrex® Heavy Metal and Chemical Detox Agent
As with all our health recommendations, this one is based on personal experience.  If you have questions, feedback, or… please comment. 
Here is the label, showing the ingredients: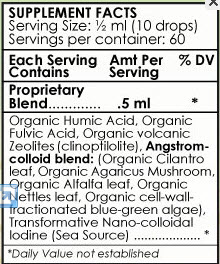 In the interest of full disclosure, a small referral fee goes back to www.myhealthoptimizer.com from sales of Zeotrex®.  Such referral fees go to support our ongoing non-profit health research activities.
To your health!
Jeff Bell